You are here
Algebra II Math in Minutes (VA)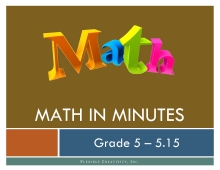 Teachers and students will build confidence in modified technology-enhanced math items with these open-response assessment questions.  Research has shown that students preform better on assessments when they are familiar with the type and style of questioning in addition to the content.  With five items per standard, teachers may provide one or two items each day as either an opening activity or transition between activities and can informally assess a student's pre- and post- knowledge of the content. 
Currently available in grades 3, 4, 5, 6, 7, 8, Algebra I, Geometry and Algebra II
Aligned to the 2009 Virginia Standards of Learning

**Lower Pricing Now Available!**
When combined with our checkpoint tests and observation forms, teachers have a winning combination in preparing students for the rigor of open-response style assessment questions. 
This product is a downloadable ZIP folder.  It contains a READ ME file in PDF and the Math in Minutes files in both Microsoft Word and PDF.  Due to the nature of delivery, we are unable to accept returns or process refunds.  If you have any questions prior to purchase, please feel free to contact us.
The pricing below is for an individual school or a division with less than 25 schools (per grade).  For larger divisions, please contact us for pricing.