You are here
Geometry Modified TEI Checkpoint Tests (VA)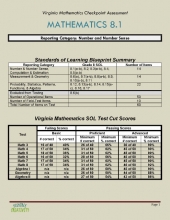 A must-have resource for every math class in Virginia.  These modified technology-enchanced item checkpoint tests build student confidence in the increased rigor and item format of the Virginia standardized assessments.  With an average of eight items per standard, students will have plenty of exposure to the many open response question styles.  Paired with our unique observation form, this duo packs powerful potential in assisting students and teachers in exceeding state standards.
Currently available: grades 3, 4, 5, 6, 7, 8, Algebra I, Geometry, and Algebra II
Aligned to the 2009 Virginia Standards of Learning

**Lower Pricing Now Available!**
And, be sure to view our daily math series, Math in Minutes.  This set of questions will expose students to a mathematics modified technology-enhanced item as part of their daily instruction.
This product is a downloadable ZIP folder.  It contains a READ ME file in PDF, the Geometry observation form in Microsoft Word, and a checkpoint test for each Virginia standard in both Microsoft Word and PDF.  Due to the nature of delivery, we are unable to accept returns or process refunds.
Sample Test Page (Grade 8)
The pricing below is for an individual school or a division with less than 25 schools (per grade).  For larger divisions, please contact us for pricing.