You are here
TLK - Elementary Science Boards Workbook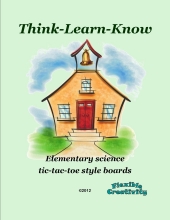 Think-Learn-Know Elementary Science workbook is the first of its kind!  Full of 125 tic-tac-toe style boards (25 each across five levels), this content-based instructional resource promotes student-driven learning.  Students thrive when learning is reinforced through 'play' and interaction with other learners.
Additionally, teachers are able to informally access the understanding of instructional material covered.  Each board includes verbs requiring students to reason, problem solve, and communicate.  These boards are not limited to a pair of students (two people) playing tic-tac-toe; they can also be assigned by teachers to individual students for a class assignment or homework and allow for a variety of differentiation.
A reference page indicates each board's alignment to the National Science Standards.  It also includes information on necessary materials students will need to successfully complete each board.  At times, students are required to complete a simple science experiment.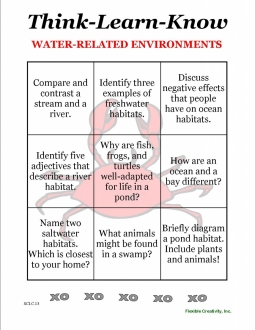 The content found within Think-Learn-Know boards are grouped by level (A, B, C, etc.) based on the general acquisition of science content during 'typical' curriculum development.  Therefore, level A most closely resembles the content students may learn in grades 1 and 2, level B includes probable content of grades 2 and 3, etc.